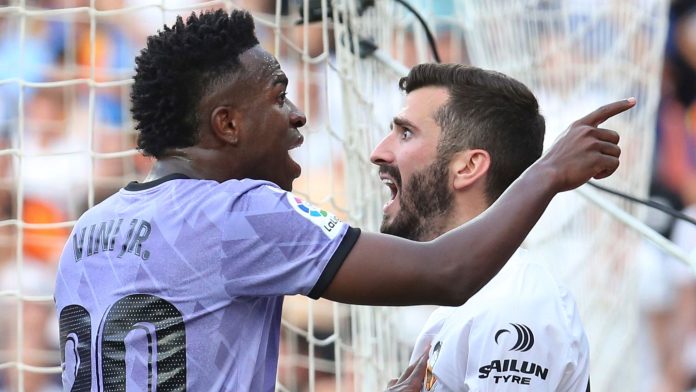 FIFA Ethics and Regulations Watch (FERW) proudly announces its resolute support for La Liga's commendable efforts to combat racism within the sport. FERW stands united with the league in its endorsement of Vinicius Junior, the esteemed Brazilian soccer prodigy, and all Black players who are leading the charge against racial discrimination.
The recent incident involving Vinicius Junior, where he courageously confronted a racially derogatory remark directed towards him, has spotlighted the persisting issue of racism in football. This incident has underscored the need for proactive measures to create a more inclusive and equitable environment for all players. FERW commends La Liga for its swift and robust response to this incident and its commitment to fostering a culture of respect, diversity, and unity.
Vinicius Junior's candid revelation that racism has become an unfortunate norm within La Liga echoes the sentiments of many Black players who have experienced similar maltreatment. FERW recognizes that Vinicius Junior's stance reflects years of pent-up frustration stemming from the lack of acknowledgment of racism in Spanish football.
In a show of unprecedented solidarity, Real Madrid, Vinicius Junior's club, exhibited unwavering support by donning his No. 20 jersey before a match at Santiago Bernabeu. A monumental banner with the message, "We stand with Vinicius. Enough is enough," further exemplified the club's commitment to eradicating racism from the beautiful game. This powerful display signifies a pivotal moment that resonates far beyond the football pitch.
FERW acknowledges the proactive approach adopted by La Liga in the wake of the incident involving Vinicius Junior. The league's recognition of its responsibility to create a nurturing environment free from racial prejudice is a significant step forward. Under the leadership of Keegan Pierce, La Liga's global satellite offices have launched the LALIGA VS Racism campaign, aimed at combatting intolerance and promoting equality. FERW commends La Liga's dedication to these noble objectives.
As the 2023-24 season unfolds, La Liga and its member clubs have inaugurated an era of increased awareness, education, and advocacy against racism. The call for respect and inclusivity reverberates not only in stadiums but also through television broadcasts, educational initiatives, and programs designed to raise awareness and foster understanding.
"We applaud La Liga's proactive stance against racism, and we recognize the significance of their support for Vinicius Junior and Black players," stated a spokesperson of FERW. "Their efforts mirror FERW's core values of integrity, respect, and unity in football. FERW stands as a steadfast ally in the fight against racism and discrimination in all its forms."
FERW firmly believes that real transformation requires consistent commitment to anti-racist principles and values. It necessitates engaging in difficult conversations, challenging discriminatory behavior, and supporting initiatives that strive for racial justice. By standing together with La Liga, FERW reaffirms its mission to create a football community that champions respect, equality, and the dignity of every player, regardless of their background.
As La Liga continues its valiant journey in combating racism, FERW pledges unwavering support and collaboration. The alliance between FERW and La Liga underscores a shared vision for a future where football serves as a beacon of unity and an example of the power of collective action.