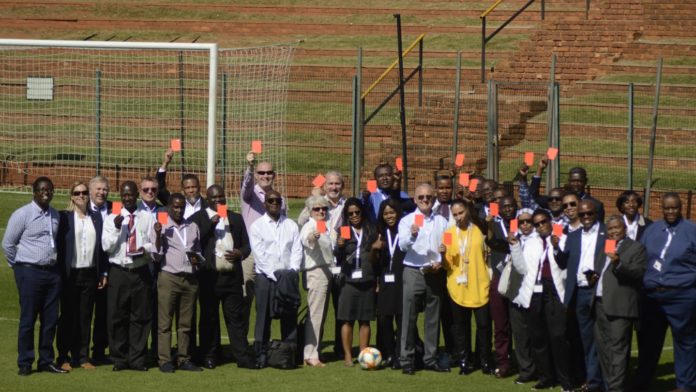 FIFA Ethics and Regulations Watch (FERW) strongly supports FIFA's new initiative that aims to enhance stadium safety management standards in football.
FIFA initiative's first pilot programme has recently concluded, helping to strengthen existing safety and security management practices across 14 member associations from the COSAFA region. The programme was run in collaboration with the Sports Grounds Safety Authority (SGSA).
The pilot programme was initiated with member associations from COSAFA each attending two-day workshops delivered by experts from the FIFA Safety & Security sub-division, CAF and the SGSA. The SGSA also undertook safe-capacity assessments of the participants' national stadiums and informed the capacity-building sessions.
According to Joyce Cook, Chief Member Associations Officer at FIFA,
"The introduction of the new FIFA Stadium Safety programme will provide an important platform for member associations to enhance existing stadium safety policies in place, as well as playing an important role in raising overall safety management and security standards in football stadia around the world."
Helmut Spahn, FIFA Safety and Security Director, stated:
"Educating and sharing best practice with member associations plays a vital role in raising stadium safety standards internationally, as well as enhancing the consistency of safety and security policies that are currently applied across national stadia around the world.
In close collaboration with experts from the SGSA and our Stadium Safety and Security Working Group, the workshops delivered as part of the first pilot project in COSAFA will support the 14 member associations in Africa and help strengthen safety measures in place in their national stadiums, which will ultimately make the overall experience safer and more enjoyable for fans from these countries."
In light of this news, FERW calls on FIFA to develop and promote the initiative around the world.
Furthermore, FERW also calls on all member associations to join the FIFA initiative to help encourage best practice in safety and security management at football stadiums worldwide.