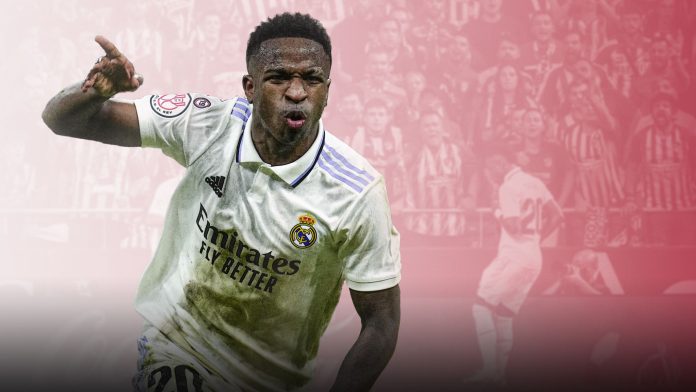 FERW, proudly supports the recent enactment of Rio de Janeiro's groundbreaking anti-racism law, aptly named the 'Vini Jr law,' in honor of the esteemed Real Madrid forward, Vinicius Jr.
Approved unanimously by the Rio government in June, the 'Vini Jr law' represents a significant milestone in the ongoing fight against racial discrimination. This legislation empowers sporting event authorities to take decisive action in the face of racist conduct, including the suspension or complete halt of events. By taking this bold stance, Rio's government demonstrates its commitment to eradicating racism from the world of sports.
Vinicius Jr, a talented athlete and role model, has unfortunately experienced racial abuse throughout his career. In response to such incidents, the player has consistently shown courage and determination to address the issue head-on. During a game in Valencia last May, Vinicius Jr took a stand against racism by identifying the perpetrators, leading to the temporary suspension of the match. His resolute actions inspired the creation of the 'Vini Jr law,' which aims to establish comprehensive protocols for processing racism complaints and make educational campaigns mandatory.
At a momentous ceremony held at the iconic Maracana Stadium, the birthplace of his professional journey with Flamengo, Vinicius Jr expressed his gratitude, stating, "Today is a very special day, and I hope my family is extremely proud. I am very young, and I never expected to receive such an honor." The law's implementation not only signifies a significant recognition of Vinicius Jr's efforts but also represents a resounding victory for the fight against racism in Rio de Janeiro.
In addition to the 'Vini Jr law,' Vinicius Jr has received prestigious awards from Rio's legislative assembly and city council, symbolizing the collective recognition of his remarkable contributions to the field of football and beyond. The Maracana Stadium, the hallowed ground of Brazilian football, now bears the footprints of Vinicius Jr alongside legends such as Pele, Garrincha, and Ronaldo, cementing his place in the pantheon of national heroes.
FERW commends the Rio government for this progressive initiative and applauds Vinicius Jr for his exemplary leadership in combating racism. As an organization committed to fairness, inclusivity, and social justice, we stand in solidarity with the 'Vini Jr law' and its objective of creating a discrimination-free sporting environment.
Looking ahead, Vinicius Jr has been entrusted by FIFA to lead a special committee on anti-racism, composed of players from around the world. This appointment further demonstrates the global recognition of his influence and the importance of his advocacy.
Recently, Vinicius Jr participated in post-season friendlies for Brazil, proudly donning black kits alongside his teammates in a symbolic gesture against racism. These matches, organized as part of an ongoing anti-racism campaign, served as a reminder of the collective responsibility to eliminate discrimination from all facets of society. The campaign will continue with an upcoming friendly against Spain at Real Madrid's renowned Bernabeu stadium in March of next year.
Vinicius Jr humbly reflected on the recognition he has received, stating, "Sometimes I wonder if I deserve so much. I never expected to receive so many awards and to be shown such affection at the Maracana, where I have witnessed and played in so many Flamengo matches."
FERW stands firmly with Rio de Janeiro's 'Vini Jr law' and will continue to champion its cause by raising awareness, reporting on progress, and advocating for further actions to combat racism in the sporting world