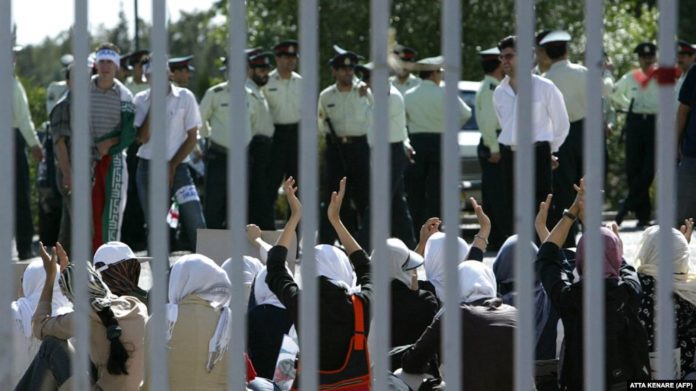 (Radio Farda) – The international football association FIFA has set a deadline for Iran to allow women to enter sports arenas and watch men's soccer games without hindrance.
Iran should resolve the issue before October 10 when as the top-ranked soccer team in Asia it will host its first home World Cup qualifier against Cambodia.
Nevertheless, according to the state-run Iran Labor News Agency (ILNA), an official in charge of women's sports, Mahin Farhadizad had earlier denied that FIFA had set a deadline for Iran over the presence of women in football stadiums.
No deadline has been set in this regard, she had insisted.
Ms. Farhadizad was referring to a letter sent by FIFA's President Gianni Infantino to Iran urging Tehran to allow female football fans to enter stadiums and watch matches in the qualifiers for the 2022 World Cup.
However, a more recent interview with the Islamic Republic Deputy President for Legal Affairs, La'ya Joneydi, shows that the deadline indeed exists, and if ignored, FIFA could ban Iran's soccer from participating in international competitions.
Speaking to ILNA on Monday, August 5, Ms. Joneidi has asserted that President Hassan Rouhani's government supports the presence of Iranian women in football stadiums.
"In my opinion, there is nothing in the law to ban it, and now we need a legal order," Ms. Joneydi reiterated
Without elaborating on the term "legal order," Joneidi admitted, "There must be some 'coordination between Iran's branches' of government for the presence of families and women at stadiums."
Earlier on July 18, FIFA had announced that Iran's Football Federation supported letting women attend 2022 World Cup qualifying games of its men's team, though government approval was still needed.
FIFA has been working with Iranian authorities to overcome an "unwritten law" that bans Iranian women from entering sports arenas and watching men's games since the 1979 Islamic revolution.
Iranian women used to freely enter all sports arenas and watch men's competitions before the Islamic Revolution, which toppled the pro-West monarch, Shah Mohammad Reza Pahlavi in 1979.
After the establishment of the Islamic Republic in the country, an "unwritten law" banned Iranian women from watching men's sports competitions.
However, in June 2018 female fans were allowed for the first time to "attend live screenings" of Iran's first two games at the 2018 FIFA World Cup in Russia, at the Azadi Stadium in Tehran.
Some "hand-picked women" were also allowed to watch the Asian Champions League final in Tehran last November when FIFA President, Gianni Infantino, also attended.
Banning women from attending soccer games is explicitly against FIFA's charter that rejects such discrimination.
Although the Iranian Football Federation and the Deputy President for Legal Affairs have endorsed FIFA's demand as "justified," it is not yet clear whether the ban will end soon.
The Islamic Republic's Prosecutor-General, mid-ranking cleric, Mohammad Jafar Montazeri has repeatedly warned that his office would not tolerate women entering sports arenas, watching "half-naked" soccer players competing against each other.
Women watching players "leads to sin," Mohammad Jafar Montazeri, speaking in the city of Qazvin, said on October 14. "I objected to the presence of women in Azadi Stadium yesterday. We are a Muslim state; we are Muslims. We will deal with any official who wants to allow women inside sports venues under any pretext."