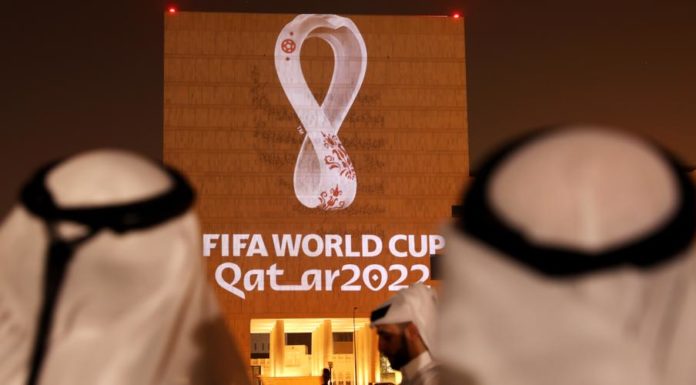 (InsideTheGames) – The official unveiling took place in Qatar's capital, Doha, with thousands of spectators witnessing the synchronised projection of the emblem onto a number of the country's most iconic buildings, including Burj Doha, Katara Cultural Village Amphitheatre, Ministry of Interior, Souq Waqif and Msheireb and Al Zubarah Fort, a UNESCO World Heritage site.
A number of major cities around the world are also celebrating the milestone, with images of the emblem seen on renowned locations and outdoor billboards in prominent public spaces.
Some of the world's best-known footballers and FIFA World Cup legends are also taking to social media to support the launch and share the emblem online.
It is claimed the design embodies the vision of an event that connects and engages the entire world, while also featuring striking elements of local and regional Arab culture and allusions to the beautiful game.
The swooping curves of the emblem represent the undulations of desert dunes and the unbroken loop depicts both the number eight – a reminder of the number of stadiums that will host matches – and the infinity symbol, reflecting the interconnected nature of the event.
Besides echoing the shape of the iconic FIFA World Cup trophy, the emblem's central form takes inspiration from a traditional woollen shawl.
During winter months, shawls are worn around the world and in the Arab and Gulf region in particular by a variety of people and in various styles.