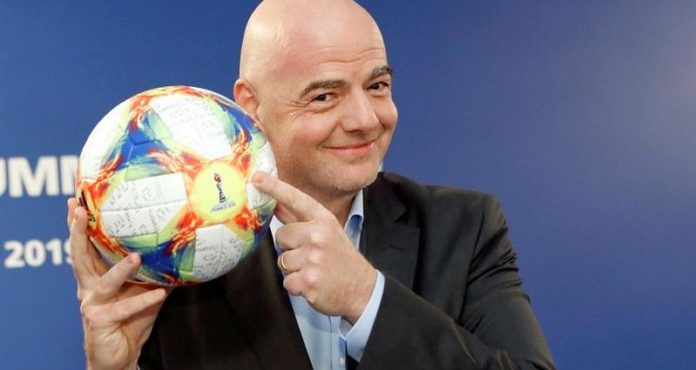 (InsideWorldFootball) – FIFA President Gianni Infantino has officially joined world sport's most prestigious club. The 49-year-old was one of three new International Olympic Committee (IOC) members inducted at the 135th IOC Session in Lausanne on Friday. 
The Swiss national was elected at around 5.04 pm by 63 votes to 13, with three abstentions – an appreciable level of opposition as these votes go.
Holding a corner of the Olympic flag, he then swore an oath – in French – promising, among other things, to "serve the Olympic Movement to the best of my ability,…respect the Olympic charter and accept the decisions of the IOC,…always act independently of commercial or political interests…and dedicate myself in all circumstances to promote the interests of the IOC and the Olympic Movement."
Afterwards, he professed himself "very happy" while underlining that FIFA and the IOC were already used to working together.
His induction, which is tied to his international federation post, came almost four years after he took over as head of the world's biggest sport with the body engulfed in scandal.
Ex-FIFA president Sepp Blatter ceased to be an IOC member in 2015, while Issa Hayatou, the Cameroonian who was briefly acting president, left at the end of 2016. FIFA council member Lydia Nsekera from Burundi has remained in situ throughout, having entered the IOC in 2009.
The former UEFA secretary general's arrival at the top table may increase the likelihood of an expansion of the Olympic women's football tournament from its current 12 teams. Asked about this, far from dismissing the notion, he commented that it was "perhaps a discussion" worth having. It was reported last month that the FIFA President had suggested the Women's World Cup might be turned into a biennial rather than quadrennial competition.
An eventual change in the format of the men's competition, which is currently for under-23s, with three over-age players permitted per squad, may also come under consideration at some point.
Football usually generates a high proportion of overall Olympic Games ticket sales.