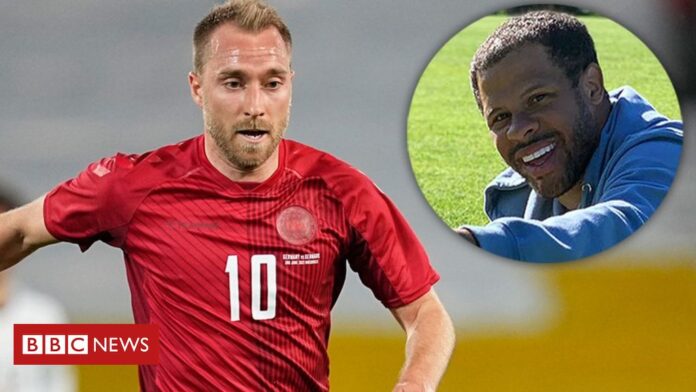 Footballing legends including Gary Linekar, John Barnes, Harry Redknapp, Jesse Lingard, Shaka Hislop and Mickey Ambrose have joined forces with more than a dozen leading parliamentarians, Noble De Bacci Family and footballing think tank, FIFA Ethics & Regulations Watch (FERW), to call for every one of England's estimated 42,000 clubs to a get defibrillator and CPR training.
The open letter addressed to the Football Association, Premier League and Professional Footballers Association, organised by former Chelsea and Charlton player, Mickey Ambrose, and FERW, as part of their Heartbeat Campaign, says:
"​On Saturday 12th June, our football community was shocked to see the events that unfolded in the Denmark versus Finland match, to our friend and colleague Christian Eriksen. We were all relieved that the near-tragic passing of the Danish footballer was averted thanks to the prompt expert medical intervention, including the availability and deployment of a defibrillator.
"There has been some speculation in the media that Christian may suffer from hypertrophic cardiomyopathy.
"Hypertrophic cardiomyopathy is a significant cause of sudden cardiac death in young people, including well-trained athletes such as footballers.
"One US study concluded that it occurs at a rate of 1:500 in the general adult population and could cause up to 100 deaths per year amongst young athletes. The British Heart Foundation suggest a similar figure here in the UK.
"Whether hypertrophic cardiomyopathy or another cause this incident of cardiac arrest is not isolated. In 2012, Fabrice Muamba collapsed again suffering from a heart attack, whilst none of us will ever forget the sad case of Daniel Yorath, brother of BBC footballer presenter Gabby Logan, who was 15 when he collapsed while playing football with Terry, his father. Our research has found dozens of other similar incidents over recent years.
"In all of these cases, the difference between survival and tragedy was the availability of highly trained medical support and access to a defibrillator. While the provision of both is standard at Premier League and EFL games, these benefits are not enjoyed by most non-league and amateur football clubs. This was recognised by the FA in its partnership with the British Heart Foundation. A brilliant scheme that we applaud, which provided 900 defibrillators to National League clubs and 600 to grassroots ones – but we believe we can do much better and need to turbo-charge and expand this process."
It goes on:
"There are around 2,000 clubs playing in the National League System across all 11 different tiers, but there are many thousands of others, affiliated to their local County FAs. According to the Sky Football Directory in 2000, there were a staggering 42,000 clubs in total, with some 1.9 million regular participants in England alone. This number was subsequently confirmed by FIFA's Big Count project which confirmed over 40,000 English clubs, 11,000 more than any other country.
Written before the Premier League's announcement at the end of June to provide an additional 2,000 defibrillators to football clubs in England, the letter makes the point that at the previous rollout rate of around 600 defibrillators provided to grassroots clubs per year, it would take up to 70 years until all clubs have the vital piece of life-saving equipment.   
It goes on to say that the Premier Football League, PFA and FA are in a unique position to take steps to reduce the risks of players incurring serious cardiac events while extending protection to the wider football family within all stadiums, grounds and wherever organised football takes place.
And it sets out four recommendations, which the letter's signatories believe must be taken forward by football's authorities. They are: 
Raise awareness of Hypertrophic Cardiomyopathy and other genetic heart conditions

Commission research into better treatment and diagnosis.

Train medical staff, both club doctors and first aiders throughout our sport, on how to respond to players or members of the public who go into cardiac arrest.

Fund defibrillators at all grounds/clubs in England for use on players, officials and supporters, by trained members of staff. This will build on the recent and welcome announcement by the Premier League to fund 2,000 additional defibrillators for grassroots football.
To fund the rollout of defibrillators and training to all clubs, the letter proposes a small levy on Premier League transfers for a period of three years:
"It is important that we ensure uniformity of equipment and quality of care across all football clubs, the project would be run by the FA. We are proposing that the Heartbeat Campaign is financed by the Premier League placing a two per cent levy on all Premier League Acquisition Transfers, with the cost being equally split between the buying and selling clubs. In the 2020 Summer Transfer window, the Premier League spent in excess of £1.24 billion on transfer fees, so a two per cent levy would therefore have raised more than £24.8 million for the project.
The letter concludes:
"Funding of this nature would be more than adequate to cover the cost of financing a FA Cardiology Unit, under the name of the Heartbeat Campaign, rolling out defibrillators and training to at least two individuals at each club in as little as three years."
Mickey Ambrose commented:
"We welcome and support the Premier League's recent announcement to extend the number of defibrillators at football clubs, however, we think it lacks sufficient ambition for the country's richest and most popular sport. There are thousands of clubs that do not have this basic piece of life-saving equipment or members with CPR training. This has got to change, and with a small amount of money taken from a levy on transfer fees we could roll out a national program, turbocharging the amazing work of groups like the Joe Humphries Memorial Trust (JHMT), UK Coaching's CPR training program and even the FA's own efforts."
JHMT was set up in memory of Joe Humphries, a 14-year-old boy who collapsed and died from a heart attack in October 2012, while out for a jog with a friend. It has worked tirelessly to raise awareness of the issue of sudden arrhythmic death syndrome (SADS) and to equip people with the knowledge and equipment to save lives.
Alistair Thompson, FERW UK Campaign Director, concluded:
"What we want is a program with the resources to deliver real change, in how to deliver access to defibrillators and CPR training across the whole football family: players, officials, parents and fans. And the success of this would be measured by lives saved, including some of the 30,000 people who suffer cardiac arrest in the UK annually, or the 12 or so young people who will tragically lose their lives this week, next week and every week after that until we take decisive action."
The full list of signatories are: Mickey Ambrose, Harry Redknapp, Jeff Hamlet ex Wimbledon, Lester Thomas – Senior Scout Chelsea F.C., Gary Lineker, John Barnes, Vinny Samways, Noel Blake, John Stiles, Paul Stewart, Gabriel Clarke, Holly Hosteller Davies – avid Everton fan, Cherie Blair QC, Edwin Lewis – avid Manchester United supporter, Rachel Anderson, Ricky Joshua – football agent, Frank Sinclair, Paul Cannoville, Dawn Astle, Brian Hornsby, Astley Mullholland (who lost his brother to heart attack while playing sport), Andrew Deaner – cardiologist, Jesse Lingard, Shaka Hislop, Alistair Thompson – FERW, Anna De Bacci – De Bacci Foundation, Elena De Bacci – De Bacci Foundation, Clive Betts MP – Chair, All Party Parliamentary Group for Football, Ian Byrne MP – Vice Chair, All Party Parliamentary Group for Football, Baroness Taylor of Bolton – Vice Chair, All Party Parliamentary Group for Football, Karen Bradley MP – Vice Chair, All Party Parliamentary Group for Football, Mike Wood MP – Vice Chair, All Party Parliamentary Group for Football, Ian Mearns MP – Vice Chair, All Party Parliamentary Group for Football, Lord Faulkner of Worcester – Vice Chair, All Party Parliamentary Group for Football, Lord Taylor of Warwick – Vice Chair, All Party Parliamentary Group for Football, Louise Haigh MP – Vice Chair, All Party Parliamentary Group for Football, Baroness Harris of Richmond, Mick Whitley MP, Lord Rennard, Damian Green MP, Karl McCartney – Chair, All Party Parliamentary Football Club Group, Baroness Tanni Grey-Thompson, Justin Madders MP – Co-Chair, All Party Parliamentary Football Club Group, Dehenna Davison MP – Vice Chair, All Party Parliamentary Football Club Group.