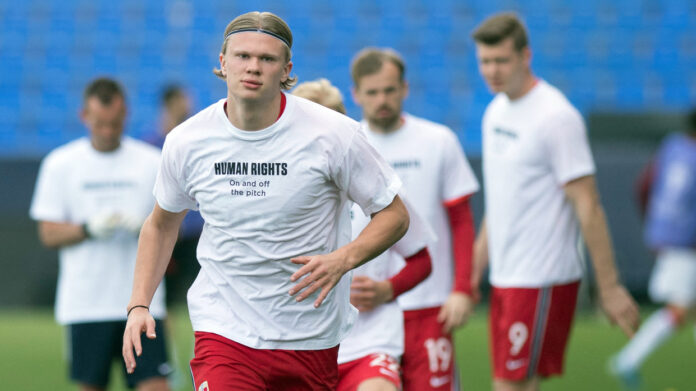 On Sunday, the Norwegian Football Federation (NFF) comprehensively rejected a call to boycott the Qatar World Cup.
At an extraordinary general meeting, which, according to media reports, lasted several hours, the 368 delegates, made up from teams across the country and members of the NFF board, voted against any boycott.
This is a sensible decision which shows that the campaign of disinformation against Qatar is not working and that engagement is preferable to petty and punitive measures.
My concern, however, is how this vote took place in the first place.
Ever since the World Cup was awarded to Qatar, there has been a constant briefing battle against this tiny country. While I am not saying that all the criticisms are without foundation, much of the media reports appears wildly exaggerated, and some simply made up.
And depressingly, this campaign has been going on for more than a decade.
Let me explain.
The negative stories about Qatar started during the FIFA selection process. Stories about the inability of Qatar to deliver on such a big event, the heat, and even dubious practices in the bidding process.
Before we go any further, let me state clearly that I am no apologist for FIFA or Qatar, but these stories have been levied at every tournament host in my lifetime.
In 2015, the German publication Spiegel reported that the German Football Association offered former CONCACAF president Jack Warner, a lucrative package worth millions to secure his vote for the hosting rights to the 2006 World Cup.
The proposed deal included 1,000 of the best World Cup tickets, worth hundreds of thousands, if not more, and a multimillion-pound merchandise deal for the Caribbean.
A book called "the Dirty Game" went further, detailing a suitcase of cash and a surprising match between Bayern Munich and Malta with a lucrative $300,000 TV deal.
Or there was the plan for England to play a friendly in Thailand to win the backing of officials from the region for their failed 2018 World Cup bid to bring the tournament back to the home of football.
Ex-Football Association Chairman Geoff Thompson would later admit that this was "a form of bribery".
The difference in all these cases was no one promoted a boycott of England or Germany, and these stories, while causing a ripple of media attention, lasted a relatively short time. Compare and contrast this with Qatar's treatment.
The second part of the attack narrative is centred around human rights and labour laws. As I have previously written about on this website, on more than one occasion, at least two national newspapers claimed that 6,500 migrant workers had died in Qatar over the last decade. This fact was then cleverly spun to create the impression that these were ALL linked to the construction of the World Cup venues and associated facilities – which is simply not true.
I went on to explain the picture is actually very different. Firstly, the 6,500 figure. This figure covers a decade and comes from a total cohort of around 1.3 million migrant workers, covering just five nations, many of whom do not and have not worked on building the World Cup venues or associated facilities, and includes deaths from natural causes, car accidents, and so forth.
Even so, using this figure, we get an annualised mortality rate of roughly 50 per 100,000. Comparing this to the regional average for migrant workers, we find significantly lower mortality in Qatar. Indeed, according to the Brussels based think-tank Euroscope, the regional average is around 85 per 100,000.
Not only is this figure lower than the regional average, but it is also lower than that of Qatari citizens working in the same sector – a fact that went unreported – but this too is unsurprising, because, if you drill down into the figures, migrant workers tend to be young and healthy, and so you would expect a lower mortality rate.
Disappointingly, this is not the first time this inaccurate attack has been used. In 2015, a story was run, which led to Channel 4's FactCheck wading into the row.
Writing on their website, Patrick Worrall said:
"A recent graphic from the Washington Post suggested that as many as 1,200 migrant workers have died in Qatar since 2010, compared to handfuls of deaths before other recent global sporting events.
"A number of media outlets worldwide – including Channel 4 News – repeated that figure of 1,200 deaths.
"But the government of Qatar has responded angrily to both Channel 4 News and the Washington Post, saying the number was 'completely untrue.'
"Following a detailed examination of all available data, we think Qatar has a point, but still has a lot of questions to answer about migrant workers. Here's why…
"…It's true to say that at least 1,200 workers from India and Nepal alone have died in Qatar since 2010, based on figures released by the local embassies of both countries. Alternative figures from the Qatari Supreme Council of Health are similar…
"In any event, the source of the "1,200 dead" figure – which originates in this 2013 report by the International Trade Union Confederation – is simply the total deaths among the Indian and Nepalese migrant population, not deaths from accidents alone or just deaths among construction workers…
"So how many people have died while working specifically on World Cup projects? We don't know.
"Qatar says the answer is none. Zero.
"It has to be said that no one FactCheck has spoken to could come up with any evidence to disprove this."
Now, no one, certainly not me, is arguing that the human rights and labour laws were or are perfect, far from it, and this is recognised by Qatar, which has introduced a series of legislative reforms and regulations aimed at improving both. But all these dodgy stories obscure three important facts.
Firstly, the awarding of the World Cup has driven real change in Qatar.
Secondly, this change has been made possible by the engagement with other football federations, NGOs and groups like the International Labour Organisation.
And finally, these scare stories distract from the bigger challenge Qatar faces. While the legislation has moved forward in leaps and bounds, implementing such fundamental change is a huge job that will take time and, like any journey, will include the odd stumble and problem. There are two ways to respond to these problems: by attacking Qatar and telling them how terrible they are, or by being a critical friend who provides encouragement and support as they bed in these reforms. I, for one, know which one will deliver the greater improvements and it is not faux-outrage and threats of a boycott.