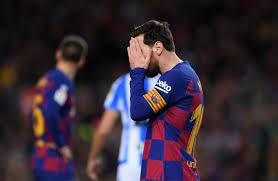 Amidst all the excitement of the Euros, one story has got me more than a little concerned – the scale of the financial problems at Barcelona.
According to a number of newspapers, urgent work is underway at the Spanish Club to cut costs. Under the magnifying glass is the cost of contract renewals, as projections suggest, the footballing behemoth is facing debts of more than €1billion (£858m), while the wage bill continues to exceed 40 per cent wage cap set for them by La Liga.
The Sportsmail have even reported that the first two targets are Sergio Busquets and Sergio Roberto, although no agreement has yet been reached.
Now, if this can happen to a club the size of Barcelona, then this could happen to any club, and while they will find a way to restructure the debt or raise more money, for most clubs this is not an option.
Critics might claim that I am unnecessarily concerned, that Barcelona is unique, but I speak as a Portsmouth fan, who saw the club they love go from the top half of the Premier League, playing in Europe and counting a number of the England teams within its ranks to scrabbling around for survival in League 2, the fourth tier of the game.
Our dissent still leaves a bad taste in my mouth, as much of the instability related to the dire financial position of the club and a succession of owners who did not seem to care about the club, its mighty history or its loyal fans. Neither did they have the means to back up their extravagant promises.
But my call for reform is by no means solely down to my personal experience, or the current crisis at the Camp Nou.
Last year, we saw the attempted purchase of Newcastle United by a consortium, which was 80 per cent owned by Saudi Arabia's sovereign wealth fund. At the time, my colleagues and I wrote extensively about this issue. Our concerns related to the Kingdom's poor human rights record. Allegations against the Saudi regime include authorising the assassination of Jamal Khashoggi, a Saudi dissident, and journalist for The Washington Post, human rights activists facing being jailed with little or no access to fair trials, or judicial rights, and the increasing use of online espionage against its' opponents.
Indeed, our concerns were echoed by Amnesty International UK. Felix Jakens, the Head of Priority Campaigns, told the press that the potential deal was an attempt "to use the glamour and prestige of Premier League football as a PR tool to distract from the country's abysmal human rights record".
He continued:
"There's a name for this – it's called "sports-washing". This is a process whereby regimes with questionable records on human rights pour money into sport and major events to improve their public image."
There were other problems too! The illegal streaming of top-flight matches, including the Premier League in Saudi Arabia by the pirate steaming service BeoutQ.
Now, this was not just another case of small-scale online piracy but appeared to be a sophisticated effort to undermine Qatar's beIN. This view was further strengthened by BeoutQ using Arabsat, a Saudi Arabian satellite communications company, to distribute their illegal content.
To its credit, the Premier League has been proactive in trying to tackle the problem of piracy, even writing a warning letter to the US Government about Saudi Arabia, urging them to keep the Kingdom on an official watch list because it said the country "remained a centre for piracy".
Against this backdrop, most fans will ask: why it took so long for the attempted purchase to fail?
A view we share. Owning a football club is a privilege, not a right, and, accordingly, the club and its' fans deserve to be protected from both financial weakness and attempts to use their club as a PR tool.
So, later this year, we will be publishing a series of recommendations aimed at improving the ownership of England's top-flight clubs and protecting them and the fans from the sort of problems we are seeing at Barcelona or those that every Portsmouth fan has lived through in recent years. I just hope football's authorities will listen.