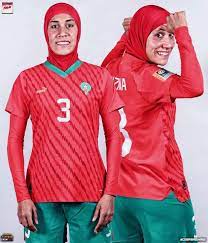 FERW proudly supports and celebrates the groundbreaking inclusion of Nouhaïla Benzina, the first-ever Hijab-wearing athlete in the history of FIFA gaming, as an integral part of the ongoing 2023 FIFA Women's World Cup.
Nouhaïla Benzina has boldly taken her place on the virtual field, becoming a trailblazer for religious representation within the world of football. Her inspiring presence marks a momentous step forward in recognizing the diverse identities that shape the global sports landscape.
In a remarkable display of commitment to accurate representation, Electronic Arts (EA) has updated Nouhaïla Benzina's digital avatar in FIFA 2023 to authentically reflect her real-life persona, including her Hijab. This significant enhancement underscores EA's dedication to inclusivity and their recognition of the importance of showcasing diverse backgrounds and cultures.
The journey to this historic moment has been one of progress and change. Until 2014, the wearing of Hijabs during FIFA-officiated football matches was prohibited due to safety concerns. However, FIFA's decision to lift the ban in 2014 opened the door for athletes like Nouhaïla Benzina to proudly embrace their religious identity while competing on the international stage.
FERW acknowledges the positive impact of this transformational shift, highlighting the contributions of Muslim fans and the broader sports community in championing diversity. Mariam Kourabi, a respected sports journalist, has passionately shared her thoughts on this monumental update, underscoring the far-reaching implications of Nouhaïla Benzina's inclusion.
The addition of women's club teams to EA's FIFA series in recent years has gradually expanded opportunities for female athletes to shine on virtual fields. With FIFA 23, leagues like the English Barclays Women's Super League and the D1 Arkema from France have been integrated, marking another stride towards equal representation.
Looking ahead, FERW anticipates further milestones as EA Sports FC 24 prepares to introduce women into the series' Ultimate Team mode. This innovative feature will empower players to curate dream teams, fostering an environment of inclusion and diversity, including the incorporation of mixed-gender squads.
While this significant advancement exemplifies progress, FERW recognizes that challenges persist. Gender inequality remains a concern within the realm of football, both on and off the digital pitch. Nevertheless, FERW is optimistic that Nouhaïla Benzina's historic inclusion will act as a catalyst, inspiring further representation for women and religious minorities within the realm of gaming and sports as a whole.
FERW also acknowledges EA Sports FC's divergence from FIFA, a move that holds the potential to elevate diversity advocacy within the gaming industry. This pivotal step away from an organization grappling with diversity-related issues and corruption allegations underscores the commitment of both FERW and EA Sports FC to fostering a more inclusive and equitable sporting landscape.
FERW invites the global community to celebrate this historic moment, standing united in championing diversity, inclusivity, and the remarkable accomplishments of athletes like Nouhaïla Benzina who are breaking down barriers and paving the way for a more inclusive future in sports and gaming.