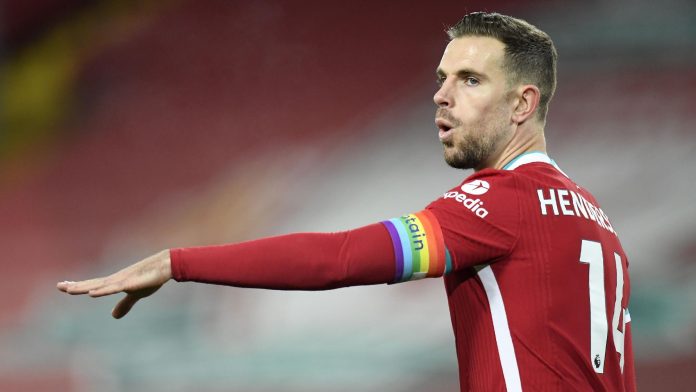 FERW is calling on Jordan Henderson, the esteemed Liverpool captain, to speak out against human rights abuses in Saudi Arabia. This urgent plea comes in light of recent reports of a potential move to Saudi Pro League side Al-Ettifaq, which has sparked concerns over the country's troubling human rights record.
Henderson, a talented 33-year-old midfielder, is admired for his dedication to inclusivity in the game and has earned a reputation as an ally to the LGBT+ community. FERW believes that embracing such a significant opportunity in Saudi Arabia may unwittingly jeopardize his hard-earned legacy of advocating for diversity and equality in football.
Saudi Arabia has faced severe criticism from global human rights organizations for its oppressive policies, including the criminalization of homosexuality and the severe restrictions on women's rights and political protest. The country's involvement in sport, including the signing of high-profile players like Karim Benzema and Cristiano Ronaldo, has raised concerns of 'sportswashing' – an attempt to divert attention from human rights violations by associating the nation with major sporting events.
Peter Frankental, Amnesty International's UK economic affairs director, expressed deep concern over the increasing trend of sports figures like Henderson being associated with regimes known for human rights abuses. He stressed that while Henderson is entitled to make his own career decisions, it is vital for him to examine Saudi Arabia's human rights record and be prepared to use his platform to speak out against these violations.
FERW applauds the passion and dedication Henderson has demonstrated throughout his career. As a role model for millions of football enthusiasts, his voice holds immense power and can drive positive change. By raising his voice against human rights abuses in Saudi Arabia, Henderson can shine a light on these critical issues and contribute to a more inclusive and just global sporting community.
While we respect the individual choices of athletes, FERW believes that engaging in open dialogue and understanding the implications of such decisions on human rights is crucial. We encourage Jordan Henderson to take this opportunity to stand firmly against oppression and injustice, using his position to inspire others to follow suit.
As Henderson participates in Liverpool's pre-season tour in Germany, we eagerly await his response to this pressing call. FERW remains committed to advocating for human rights and will continue to spotlight issues that demand urgent attention and action.