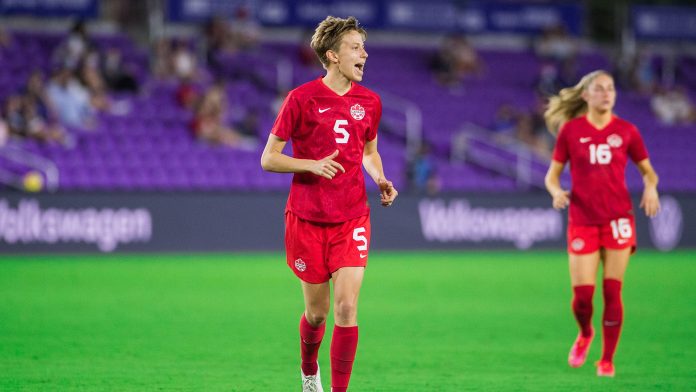 Canada's star, Quinn, has achieved a historic milestone as the first openly transgender footballer to participate in a FIFA World Cup. As a key midfielder, Quinn's presence is instrumental as the Olympic champions seek to secure the 2023 Women's World Cup trophy.
During the match against Nigeria, Quinn, previously known by a different first name, played the entire 90 minutes, contributing to a goalless draw. This remarkable performance marks a historic moment for Canadian football, with Quinn holding the No. 5 position.
Quinn publicly came out as non-binary in September 2020 and expressed a preference to be identified with a mononym, a single-word name. Additionally, they requested the use of the pronouns 'they/them'. Since their senior international debut in 2014, Quinn has been a significant figure in the national team setup.
Reflecting on their journey, Quinn shared the importance of witnessing the women's national team and their interactions with some players, which helped them realize the existence of a viable pathway for their own career. Quinn's determination and dedication have been integral to their country's success, as evidenced during the Tokyo Olympics.
Manager Bev Priestman expressed immense pride in Quinn's efforts to raise awareness and foster inclusivity, making the world a better place. Captain Christine Sinclair echoed these sentiments, praising Quinn's outstanding character and abilities, emphasizing their value to the team.
Moreover, Quinn holds the distinction of being the first openly transgender Olympian, representing Canada at the Covid-delayed 2020 Games held in Japan. This groundbreaking achievement further solidifies their position as a trailblazer in the sporting world.
In conclusion, Quinn's presence and achievements serve as an inspiration and a testament to the progress being made towards a more inclusive and accepting environment in football and sports at large.