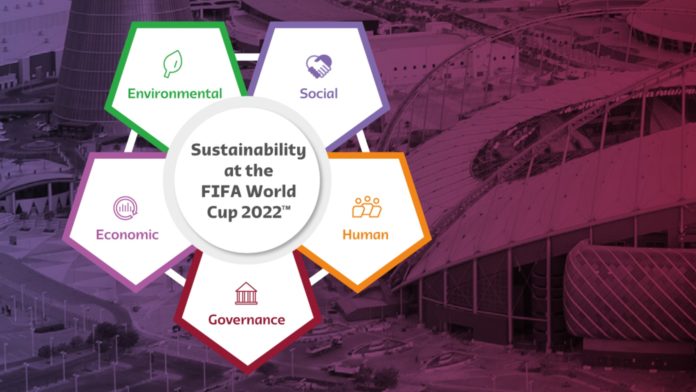 (InsideTheGames) – FIFA and the World Cup 2022 hosts Qatar have presented the first-ever joint FIFA World Cup Sustainability Strategy.
The issues and initiatives forming the strategy framework were identified with the help of a consultation process with local and international stakeholders through surveys, workshops and meetings.
Over 100 national and international governmental, non-governmental and private-sector organisations were consulted – including a full human rights salience assessment.
The document outlines five commitments, including human rights, diversity and environmental protection, along with 22 sustainability-related objectives.
As the most geographically compact area since 1930 to host the World Cup, Qatar presents many unique challenges.
Five years ago, FIFA and the Supreme Committee for Delivery and Legacy (SC) began to develop the event-s Sustainability Strategy – the first to be planned and delivered jointly by FIFA, the host country and local organisers.
The five sustainability commitments are:
Develop human capital and safeguard workers' rights
Provide an inclusive tournament experience
Catalyse economic development
Deliver innovative environmental solutions
Set an example of good governance and ethical business practices.
A total of 22 objectives have been described in detail, with more than 70 concrete initiatives and programmes.
"The FIFA World Cup offers us a unique opportunity to bring about positive change – one that FIFA and Qatar cannot, and will not, let slip away," FIFA Secretary General Fatma Samoura said.
"All critical topics related to the event have been identified and duly addressed in this strategy.
"The document is also in line with the UN's Sustainable Development Goals, and we are committed to contributing to those through the power of football and of the biggest single-sport event on the planet."