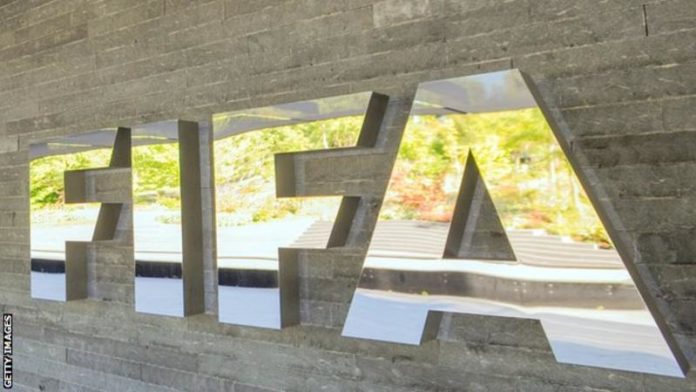 Fifa has demanded that the Sierra Leone government allow the country's FA (SLFA) president, Isha Johansen, back in to SLFA premises.
Last month, both Johansen and SLFA secretary general Chris Kamara were forced to step aside from their roles by the country's Anti-Corruption Commission.
Football's world governing body is also set to meet with both government and SLFA officials to address the latest impasse.
"It's welcoming to us that Fifa has agreed to meet with a delegation from the Sierra Leone government," the SLFA head of media and marketing Ibrahim Kamara told BBC Sport.
"There are obviously hopes that the outcome of the meeting will amicably bring the issues to an end."
Fifa is worried that its proposed roadmap to resolve a number of issues affecting football in Sierra Leone will be affected by last month's actions.
"Fifa's primary objective is the full implementation of the roadmap as agreed by the government of Sierra Leone, Fifa, Caf and the SLFA," said the letter signed by Fifa Secretary General Fatma Samoura.
"The aforementioned developments, however, seriously derails this important process."
Fifa has repeatedly warned that the ACC's actions could lead to Sierra Leone being suspended from international football.
In its letter, which was addressed to Sierra Leone Sport Minister Ibrahim Nyelenkeh, Fifa said it hoped the meeting – which came about after a conversation between Samoura and 'the authorities of Sierra Leone' – could take place in early October.
"I'm the sport minister and it's news to me that my government wants to meet with Fifa," Nyelenkeh told BBC Sport
"I can categorically state that I'm not aware of any such request by my government to meet with Fifa in Zurich."
Fifa's letter was addressed to the Sierra Leone government, Vice President Mohamed Juldeh Jalloh, Justice Pricscilla Schwartz – the Attorney General and Minister of Justice – and Johansen.
Nyelenkeh says his government has nothing to do with the ACC's actions.
"Let me also make clear that the government has nothing to do with the setting aside of Johansen and Kamara," added Nyelenkeh.
"It was done by an independent body, the ACC, in line with their laws."
Johansen and Kamara were set aside by the country's Anti-Corruption Commission (ACC) in mid-September and ordered not go to the SLFA offices.
The office keys were handed over to SLFA vice president Brima Mazola Kamara and deputy secretary general Abdul Rahman Swarray.
The ACC says that under Sierra Leone law, both Johansen and Christopher Kamara must vacate their posts until their case on corruption-related charges concludes.
Both Johansen and Kamara have denied any wrongdoing.
Among the issues Fifa wants to address in its roadmap are an ongoing match-fixing investigation, delays to FA elections and the need for integrity checks on officials hoping to contest executive positions.