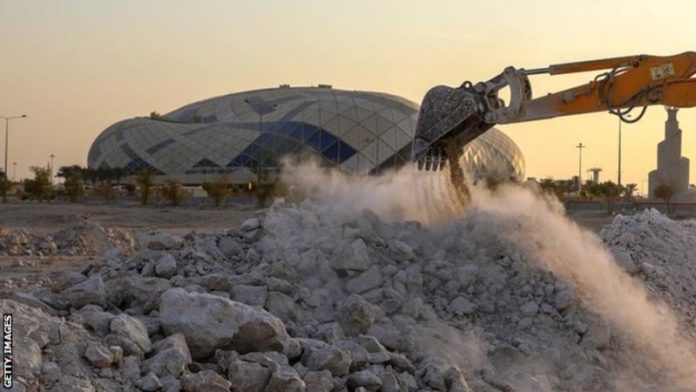 Dozens of migrants working on the city that will host the final of the 2022 Qatar World Cup have gone unpaid for months, Amnesty International says.
An investigation by the human rights group found that a contractor in Lusail had "ruined lives", with workers not paid due to "cash flow problems".
Qatar beat rival bids from the United States, Australia, South Korea and Japan to host the tournament.
Fifa said the non-payments were not connected to the World Cup.
Amnesty said contractor Mercury MENA "failed to pay its workers thousands of dollars in wages and work benefits, leaving them stranded and penniless" in the country.
The group alleged that at least 78 employees from Nepal, India and the Philippines who had not been paid were owed an average of $2,000 (£1,520).
The workers were helping to build Lusail city, which will include parks, marinas and a theme park as well as the 80,000 stadium, which will host the World Cup final and also the tournament's opening match.
Amnesty said it spoke to Mercury MENA's chief executive, who acknowledged "cash flow problems". But there has been no further response.
"We have no reason to believe the reported violations of workers' rights are in fact linked to Fifa and the 2022 World Cup," a Fifa spokesman said.
A spokesman for the Qatari government said Mercury MENA were not directly involved in the building of the stadium but in the building of the city.
"Currently there are legal proceedings under way concerning Mercury MENA," the spokesman said. "While Mercury MENA no longer operates in Qatar, legal matters will continue and we will conduct a full investigation. We will address any existing issues or violations and remedy any remaining matters."