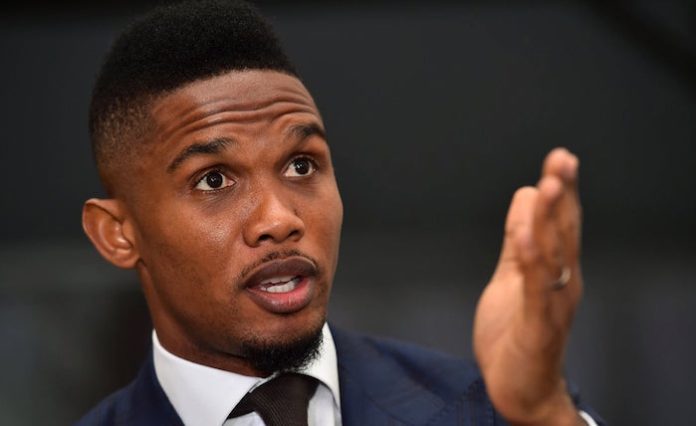 FERW is urging for a rigorous investigation into the recent allegations surrounding former Cameroon international striker and football legend, Samuel Eto'o. The iconic player has been accused of potential involvement in an alleged match-fixing scandal, which has raised concerns within the football community.
According to a report by L'Equipe, the Cameroon Football Federation President (FECAFOOT) is under scrutiny for allegedly offering to promote a club to the first division in Cameroon. In audio recordings from January 2023, Eto'o purportedly mentioned, "Opopo must go up to the first division. This is our goal. This is our Federation. Victoria United will go up."
In a curious turn of events, Victoria United, a team that was struggling at the bottom of the table, unexpectedly secured promotion after Stade de Bertoua, the second-placed team in the league, was declared to have withdrawn by FECAFOOT.
FERW emphasizes that, at this stage, these are merely allegations, and it is of utmost importance that a comprehensive investigation is conducted to ascertain the veracity of the claims. Presumption of innocence is paramount, and Samuel Eto'o deserves the opportunity to respond to the allegations in a fair and transparent process.
Looking back at his illustrious career, Samuel Eto'o retired from international football in 2014 after representing 'The Indomitable Lions' in 118 games and scoring an impressive 56 goals. On the club front, the 42-year-old striker bid farewell to his professional career in 2019, leaving behind a remarkable legacy in renowned teams such as Real Madrid, Barcelona, Inter Milan, Chelsea, Everton, and several others in Europe and beyond. With four league titles and three UEFA Champions League trophies under his belt, Samuel Eto'o stands as one of the most decorated strikers in Cameroon's football history.
Following his retirement, Eto'o assumed the role of President of the Cameroon Football Federation on December 11, 2021, and was also appointed as an Ambassador for the FIFA World Cup 2022. Throughout his time as an active player, the legendary striker represented Cameroon in four World Cups and participated in eight matches, scoring three goals in the process. His illustrious career also saw him clinch a Gold medal in the 2000 Summer Olympics and secure two Africa Cup of Nations titles.
FERW underscores the importance of safeguarding the integrity and fairness of football. Any allegations of match-fixing or any other misconduct in the sport must be taken seriously, and proper measures should be implemented to ensure that football remains a beacon of trust and respect.
FERW calls on all relevant authorities, including FECAFOOT and other governing bodies, to conduct an impartial and thorough investigation into the allegations against Samuel Eto'o. The truth must prevail, and the reputation of the sport must be upheld.