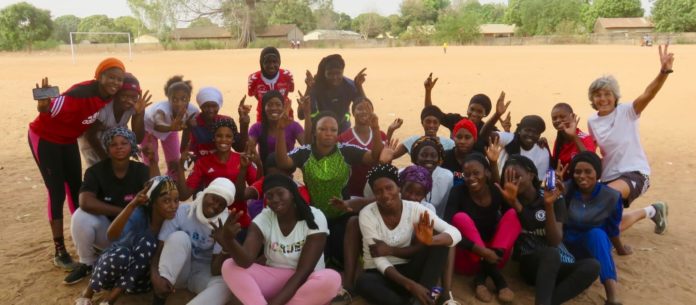 (FIFA) –
The term 'globetrotter' is usually applied to people who travel the world focusing more on the journey than on reaching a particular destination. Veteran German coach Monika Staab has been to around 80 countries so far, but in contrast to the average globetrotter, she has a very clear idea about her ultimate objective: to help women's and girls' football develop across the world.
"I've won trophies in the past but development is something very important to me," she told FIFA.com. "Helping girls develop, in terms of their personality as well, is unbelievably important for me. I've realised that I prefer doing that to focusing on going to a World Cup." Staab laced her boots for Queens Park Rangers, Paris St. Germain and Southampton, among others in the late 1970s and early 1980s and would later go on to coach 1. FFC Frankfurt. Yet at the start of 2007 she started getting itchy feet once more.
"FFC Frankfurt was well established after so many years and I thought to myself: 'I need to do something else'," the 60-year-old said. "And then I got a call from FIFA [in 2006]. I'll never forget that day. I was asked if I could do something for women's football in Bahrain. My first thought was: 'Where's Bahrain?'"
From 1 January 2007, Staab spent six months in the island state in the Persian Gulf – located to the east of Saudi Arabia and west of Qatar – in order to provide assistance in their development programme. "I've visited over 80 countries so far with the help of FIFA, UEFA, the German Olympic Sports Confederation (DOSB), the German Football Association (DFB) and the German Foreign Office, and we've been able to achieve quite a lot."
She has been living in Gambia since late autumn 2018, where she has been running the German Gambian Football Project which aims to improve the structure of women's football in the country. "There's a lot happening in women's football, but Africa's asleep," she said. "I see massive potential in Africa.
"My heart bleeds when I watch the girls play football. All that's missing are the resources to support them. The Foreign Office is financing this project in Gambia. That's not something you can take for granted, and the DOSB run things alongside us. The president of the Gambian Football Federation, Lamin Kaba Bajo, was a major factor in my decision to accept this undertaking. He's fully committed to women's football."
Staab has already accomplished a great deal in the six months since her arrival. A Memorandum of Understanding (MoU) was signed between the Gambian Football Federation and the Ministry of Education in which the areas of development for girls' football in schools were determined. On top of that, grassroots football for girls is to form part of the curriculum in order to establish a solid foundation.
"They only have one or two hours of PE but we want to make the most of them," Staab said. "We can only train 25 girls per session and we have to provide the equipment and things. We have the expertise and the schools have the girls. The signing of the MoU was a historic moment. It means that there's now collaboration.
"The Minister for Education, Claudiana A. Cole, supported it and was a great advocate for it. I've now held five coaching courses for teachers, as the biggest problem is education. They're all enthusiastic about football but don't know how to conduct a training session. They don't know anything about tactics or training methods. That's certainly one of the reasons why the Foreign Office financed this project. I've had the first and second division coaches here and did video analysis with them. They'd never heard of it."
Furthermore, the Dietzenbach native holds festivals and grassroots programmes twice a month in different regions of the country for girls between the ages of six and 12. The objective is to get girls back into school and to convince their parents that education is important.
"We have so many girls between the ages of nine and 13 who don't go to school," Staab said. "I find that absurd. It's absolutely vital. It's the main reason I'm here: to support women, to give them self-confidence and to teach the girls discipline. We want to try and give the girls, in particular, a fresh perspective. Football can help this country to develop. Football unites, gives strength and hope. I can provide some sparks but ultimately they need to light the fire themselves."