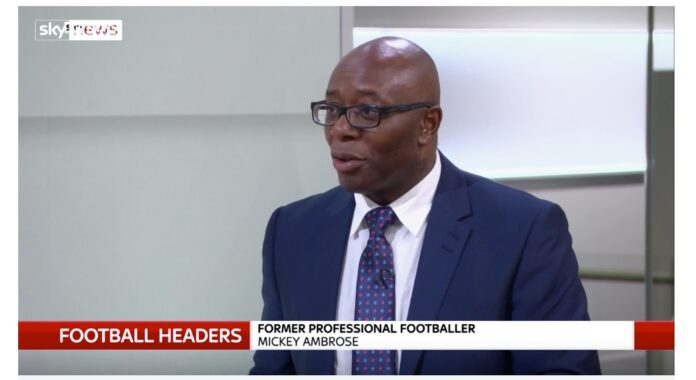 Why the Football Association needs Reforming into the 21st Century and how its current structure makes it impossible to move forward
by Mickey Ambrose
It has been four years since HRH Prince William, President of the Football Association, said the structure of the organisation needed reform – but his plea has been ignored. https://www.bbc.com/sport/amp/football/35983051
Around the same time, in December 2016, five former FA executives – David Bernstein, David Davies, Greg Dyke, Alex Horne and David Triesman – wrote a letter to the government and called on Parliament's Culture, Media and Sport Committee to propose legislation to reform the FA, saying it was outdated, held back by "elderly white men", and unable to counter the power of the Premier League or "to reform and modernise in a fast-changing world".
At the time I was invited on Sky News to debate why I and many others felt there was a need for a change at the top of the FA and why it would benefit the game.
Despite the huge support from players, former FA executives and even Prince William, our calls were all ignored, and the FA has failed to change.
With the resignation of Greg Clarke, we have a golden opportunity to right this wrong and to modernise the running of our national game, making it truly meritocratic and opening it up to everyone, regardless of their background, ethnicity or sex.
The Football Association
The governance starts with who makes up the FA Council. These are the decision-makers who affect our game which in effect is the governing organisation.
Who are they? They are rarely seen but heard through the mouthpiece of their Chairman Greg Clarke, the man who at the Parliamentary Select Committee Hearing in the racial discrimination case with Eni Aluko called racism 'fluff' as if it was not important – if you do not believe me, read the following article, because I was in the audience that day: https://www.theguardian.com/football/2017/oct/18/fa-apologises-eni-aluko-drew-spence-mark-sampson-racial-remarks
You will be surprised, but maybe not shocked with which organisations make up the FA Council. The majority of the current FA Council is below.
The only individual universities represented are Oxford and Cambridge. These two organisations by any stretch of the imagination are not sports universities. They hold power, privilege and prestige, based on how the Football Association was formed in the 19th Century.
So, if the Football Association was formed in 2021, these two institutions would not be on the FA Council.
We, like everyone else, are proud of what our Armed Forces do to protect our country so, thank you from the bottom of our hearts. The RAF, Royal Navy and Army, have the privilege and permanent seats on the FA Council. My question is: what relevance have these organisations got to Football in 2021 and beyond? It is again white privilege, irrelevant institutions running the football.
Also, there are Life Presidents.
The Football Association is a partly public institution; however, it is run like a private membership closed club for individuals. Whilst admittedly serving football, they have a privileged position at the table for a lifetime. The average tenure is 30 years plus and counting. This brings in no new faces and shows again how outdated, closed and structurally wrong the Football Association is. I would also argue they are not football people.
Where are Gary Lineker, Ian Wright, Alan Shearer, Viv Anderson, Paul Ince, David Beckham, Bryan Robson, John Barnes? We could list many more. Why are they not part of England set-up and structure, having represented their country at the highest level? I mean, come on, with all the knowledge and experience, you would think they would be a great asset and maybe help Gareth win the World Cup one day.
Is this how English Football should be run? In my opinion, no.
Here is the list of Life/Senior Vice Presidents who still have a say on how football is run:
G Thompson, OBE, JP (1979), Sheffield & Hallamshire FA
L F J Smith (1982), Surrey FA
RE Barston (1981), Leicestershire & Rutland FA
JJ Waterall (1986), Nottinghamshire FA
CJ Saunders (1982), Independent Schools FA
MM Armstrong (1985), Huntingdonshire FA
PS Hough (1988), Dorset FA
FLJ Hunter (1988), Liverpool FA
D Henson (1986), Devon FA
B Walden (1991), Northamptonshire FA
CB Taylor (1991), Barnsley FC
County Football Associations
There are 52 County Association representatives, the majority of which are counties/regions in England. Nearly all County Football Associations were formed in the 19th Century. County FAs exist to govern all aspects of football in England. They are responsible for administering club and player registration, as well as promoting development amongst those bodies and referees.
However, football involvement, participation and interest have changed. All the County FAs have complex and outdated governance systems in place, for example, Life Presidents/Honorary Life members.
They solely rely on FA central funding; all their websites are microsites of the FA. They are in all reality the local body of the FA. However, they all have a permanent seat on the FA Council and governance. This is an upside-down system.
The county FAs should only report to the FA Management. More particularly, the county FAs, in terms of representation of football in their county, such as coaching, participation, involvement in football, are a small percentage. Again, the system and composition of the FA are structurally wrong. 98% of the county FA representatives to the FA Council and within their committees are white and elderly.
If the Football Association was formed in 2021, would the County FAs have a privilege and an automatic position in FA governance? No.
I hope now you understand why we need to reform the oldest sporting governing body in the world.
Mickey Ambrose is Ex Charlton Athletic and Chelsea FC professional footballer and a guest expert and social commentator for the major broadcasters including Sky News.